YouTuber Logan Paul has made serious tax fraud allegations against Puerto Rican rapper Bad Bunny, but the musician's fans are standing by him.
Paul made the comments while appearing on The Philip DeFranco Show on YouTube, discussing his own charitable work in Puerto Rico before the topic of conversation moved on to Bad Bunny.
"It's tough because I love Bad Bunny. I think he's an amazing entertainer, I think he's a generational talent, but I do find it hypocritical because Bad Bunny is a Puerto Rican, living in Puerto Rico, who is privately taking advantage of the same tax program that he is publicly condemning," Paul said.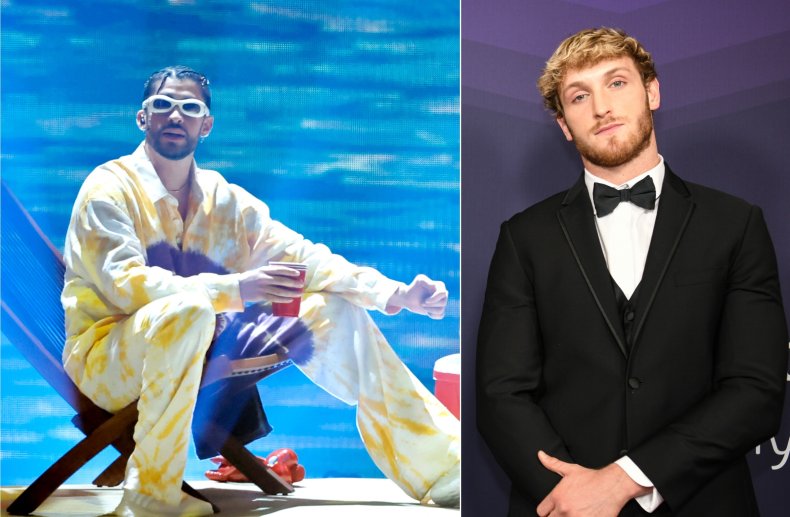 Host DeFranco asked whether this was true or not, to which Paul said: "I know this." Paul then named the alleged tax program in Spanish that he suggests Bad Bunny, "and his manager," benefits from.
"And I see things like this and it hurts. There are local Puerto Ricans who know about this. So I see this music video that has stuck me in the middle of it, that is surrounded by context that makes me look like a vulture in Puerto Rico, and again while I love Bad Bunny, I cannot personally support the hypocritical nature of his exploitation," Logan said, ending his point by suggesting there's a journalist in Puerto Rico currently writing a profile on Bad Bunny's tax activities.
"Did he just accuse Bad Bunny of tax fraud?" DeFranco can be heard asking his team off camera after the interview ends.
Paul has previously been accused of being one of the many people taking advantage of Puerto Rico's Act 22. The law allows global residents to move to the U.S. territory and avoid paying taxes on transactions such as stocks or real estate.
In September, Bad Bunny dropped a 22-minute documentary, called El ApagĂłn—AquĂ­ Vive Gente, which translates roughly to "The Blackout—People Live Here." It highlighted the issue of people moving to Puerto Rico who benefit from Act 22, and it made special mention of Paul too.
In light of Paul's fresh accusations made against Bad Bunny and his manager, people online have reacted negatively towards the YouTuber.
"BREAKING: White colonizer tries to gaslight and bend the truth after his feelings were hurt after being called a colonizer," Twitter user @elcielodeabril wrote in response to a video posted by DeFranco, receiving over 5,000 likes for her strong take. Real name Alexandra-Marie Figueroa, she then shared an article from a year ago in which she suggests "colonizers" have been using the "tax 'incentives' to pray on locals."
One of the tweets that got the biggest reactions was sent by @moisturizednerd who clearly explained why Paul's accusations were false.
"Bad Bunny was born and raised in Puerto Rico. He cannot use that tax program because that is strictly for foreigners that move to Puerto Rico," the user tweeted, before continuing in a separate tweet: "Using an actual Puerto Rican native to deflect is crazy lmfao. Bad Bunny is not the one contributing to gentrification in Puerto Rico like Logan Paul is."
Journalist David Begnaud also weighed in, echoing the sentiments of @moisturizednerd, writing: "Bad Bunny is Puerto Rican. Born there. Raised there. Etc. The exploitation notion deals with outsiders moving to P.R. to take advantage of tax perks, not Puerto Ricans who are from there. Am I wrong?"
Not everyone criticized Paul for his take though.
Puerto Rican based Antonio Morales suggested that Logan and Jake Paul have been doing good work in the country without documenting it on film. "Logan Paul and his brother I know has been fixing and rehabilitating different boxing gyms for the youth of our different barrios," he wrote.
Indeed, a lot of Paul's chat with DeFranco on The Philip DeFranco Show did feature the YouTuber highlighting the charitable work he's attempting to do in Puerto Rico.
Bad Bunny has yet to reply directly to the accusations against him made by Paul. Newsweek has reached out to his representatives for further comment.